Download the Fulfillment Solution Brief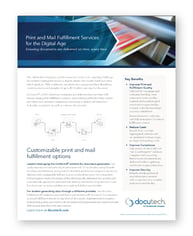 Eventually, virtually all consumers may opt into a paperless loan document process; however, given the compliance mandates and high cost of non-compliance related to response times, the role of physical documents remains vital.
Docutech provides lenders flexibility and security with always-ready print fulfillment centers, loan origination system data pushback, detailed compliance reporting, and a direct-to-fulfillment API.
Benefits:
Improve quality with worry-free document accuracy and quality controls
Ensure documents are delivered according to client requirements with automated triggers
Deliver the right document to the right person, on time, every time
Gain visibility with real-time reporting of document packages
Gain data protection confidence with industry-leading physical and information security
Optimize build capabilities and streamlined implementation
Deliver virtually any document to any party, on demand.
Download our solution brief and learn how Docutech's Print Fulfillment services and API can optimize your lending operations.